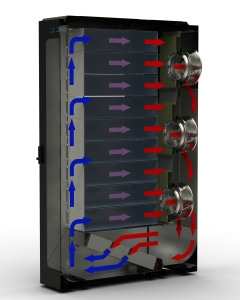 Mechanical Systems West, Inc. offers mission critical mechanical capabilities in the form of precision equipment, custom designs, and quality contractors.
We provide mission critical mechanical equipment for an array of industries. Safeguard high-stakes locales like data centers with precision environmental control. Our air handling, temperature management, and humidity control products are the most energy-efficient and cost-effective models available today.
We feature modular design systems custom-tailored to your specific needs. We can compliment your existing mission-critical system with updated equipment—or, we can work together to draft a product list unique to you. We can also help create integrated mechanical and electrical packages.
In addition to providing you with the latest in precision management, we also support your mission critical operation with a team of trusted and experienced mechanical service contractors.
Mechanical Equipment
We offer the following in air handling, temperature management, and humidity control:
Custom Air Handlers
Computer Room Air Handlers
Custom Cooling Modules
Ultrasonic Humidification
Packaged Chiller Plants
High Pressure Humidification
Evaporative Cooling Modules & Systems
Liquid Cooled Racks and Rack Containment